LoneLy: (Ep. 1) - The DesCent
A downloadable 'horror' for Windows

Developer: Stitch / Bad Stitches
Publisher: Voodoo Box
Genre: Psycho-Horror / Adventure
Language: german / english
Status: Demo version 1.9
Play time: approx. 30 min +
'LoneLy' is a game with a heavy atmosphere and psychological horror comparable with the old Silent Hills and Resident Evils and is created with the RPG Maker VX Ace.

What is 'LoneLy'? It's a game based on true events and the development was started in 2014.This period was a healthy progress for myself to handle my own badly past and to show and evolve my skills for making horror and videogames. I'm in love with retro games from the 90s-era.
The old Silent Hill and Resident Evil games shaped me and gave me so much inspiration that I'm able to make my own 'perfect' game. A german full version was officially released for approx two years but I removed the old one to recreate a better game that is still in development. And now, here we are with the Director's Cut of 'LoneLy'.





After a bad and traumatic event, Timothy Lloyd was forced to move back to his family. He was welcomed happily but this joyful moment was short. Something seems to have changed since his relocation: Tim isolated himself from the others and a gloomy feeling of loneliness shrouded the whole family and was draining their vitality.
By the time when Tim realizes that something's going wrong he tries to escape from the cage of solitude and tries to figure out the mysteries which are responsible for the strange happenings at his home. However, the deeper the path he goes the worse and crueler the horror gets, which he himself and his surroundings are falling prey to.


Dive into a compelling story and make acquaintances with eclectic and mysterious characters which are hiding their own demons and secrets
Feel the dense and thrilling atmosphere and make a dreadful journey of chaos, horror, sex and violence
The world is big and you have the freedom of choice which influences the story and the events
Tricky puzzles are entangled with the story and the environment and appears in a creative and a diversified way
There are optional ways that invites for explore and discover to raises the replayability




Of course you think what comes next after Episode 1 - The DesCent? Two more episodes was planned in the past for the german community. But my skills grew so much in development and I decided to make a cut with this old version and tell the story in a remake of LoneLy. I want to create a better and unique main look without any typical RPG Maker resources. I have to make my own graphics an pictures to tell my story in the way I wanted to. So in the end, my fans and upcoming horror game players will get Episode 1 as a free version when it's finished. After that I make the beginning to create the remake as a commercial version with all including episodes and special content. More upcoming news will appear soon.

Are you ready to enter the descent of the human psyche?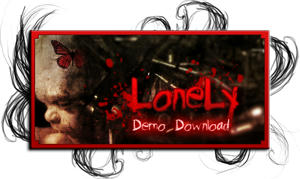 System requirements (minimum)
Runs for XP/Vista/7/8/10
Processor: Intel (R) Core (TM) i3-4160 CPU @ 3,60 GHz
RAM: 4,00 GB
System type: 64-Bit operating system



Of course I've got a website and social media with my (upcoming) projects and art. Meet the team behind everything and see more games, content and news.
Guest creators and highly recommended - one view is worthwhile!

A website with a good variety of old retro games. If you like Castlevania, Resident Evil, the 90s-era and horror games you won't regret a visit on this page (only available in german).

A promising RPG project for players who'd like to play on the dark side. Perhaps you could turn the mighty and dreadful demon lord to a good person by your own decisions?
Install instructions
After the download, you can start the game with the LoneLy.exe. The starting process can take few seconds. Make sure to read the text files to understand the terms and to avoid any mistakes.
Comments
Log in with itch.io to leave a comment.
i..lowe...horror...games...petty...great:)
Thank you very much. I recommended your LP in the LoneLy Discord channel :)

Really enjoyed your game! The art style and ambience give it that creepy feel. I look forward to the full game!
I tried installing, and it failed to do so. I hope this error gets fixed soon. I'm excited to try your game :)
You have to start the game from the LoneLy.exe (look at the picture)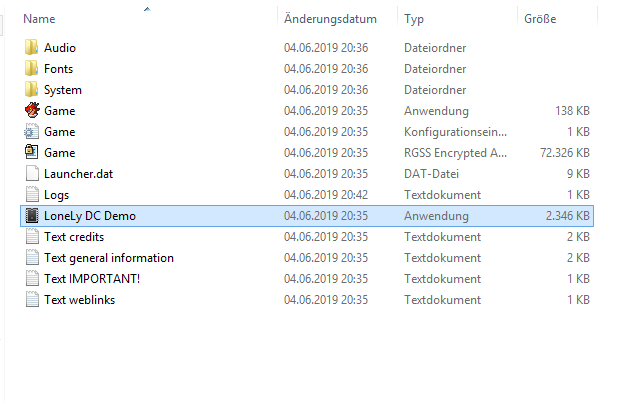 Following points should also be considered:
> make sure that you have the latest version of Microsoft Framework
> eventually, Steam may not work in the background, make sure it's off
These instructions are into the text file 'Text IMPORTANT'
If any problem still exists, please give response and I'll fix that problem immediately.

I really want to give your game a go but having problems just opening the game. When I tried opening 'Game' it says Failed to load archive. When I tried 'Lonely DC Demo' it says Unable to find file: Audio/BGM/Echoes (Tims Desire).

Just the same procedure like in the upper post. If it's not work, please let me know and I'll try to fix it.